Welcome to the official website of St Sampson Parish Council
The small Parish of St Sampson dates from about AD610 when a Welsh bishop named St Samson is said to have founded a monastery in the locality.
With its proximity to the Fowey Estuary, fishing and the coastal trade supported the local population for many generations. Today the river estuary is as popular as ever, however, trading ships and fishing has long since given way to 21st century leisure pursuits, all of which encourage visitors in the holiday seasons, when they are most welcome.
Our Parish consists of some 105 homes, giving a current residential population of about 200. The Parish Council currently consists of six members and a Parish Clerk. The council meets on the fourth Tuesday of each month in the Village Hall. Members of the public are very welcome to attend our meetings and are given an opportunity to speak.
We hope you will find this an interesting and useful source of information.Click here for the village street map.

Thank you for visiting St Sampson Parish Council website.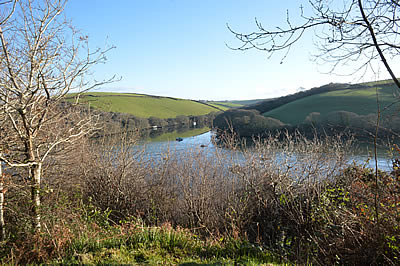 Views over the River Fowey from the northern bench along the Saints Way path from Golant to Fowey